Our team is Vivid, energetic & filled with passion of the tourism industry. We have a combine experience of over 20 years. We strive our best to deliver the promises to our travellers. A mix of knowledge, professionalism, care, empathy & smartness is what keeps our team strong & apart. We come from absolutely different backgrounds that makes all the eggs in the basket and the total team completed.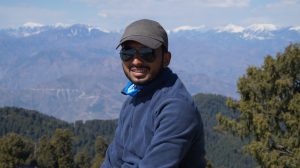 Nabeel Ansari
This young gentleman realized his calling and began travelling and trekking at the age of 7, since then he never looked back, he couldn't get enough of the exploration so much that he sometimes even went by himself to continue exploring but he did that for all the right reasons. To hone his rather naïve aspirations and so as to blend professionally in the travel realm he pursued Master of Business Administration (MBA) in Travel and Tourism from Fondazione Campus, Lucca University-Italy in affiliation with Kuoni Academy of Travel. Travelling with Nabeel is not just being sensitive towards environment but also socially (towards people). A handful amount of knowledge is always imparted to all those who dwell with him. An avid nature lover and wanting to learn more from everyone he meets.
A fun loving, young, dynamic, versatile, energetic, simple and a good leader makes him lead with an example. This adventurous soul has not just been an inspiration but also bags quite a few achievements in life. He is a trained certified mountaineer, Wildlife Naturalist, IATA certified, certified member of the National Geography photography society, Scout master in various institutions for over a decade now and is also a tourism faculty for a renowned college in southern Mumbai. With over 12yrs of total experience of the tourism industry in various segments. To continue the knowledge spree he is now also an certified Ornithologist from IIT-Madras & a Conservationist from National Geographic. With over 15+ destination expert certifications, you can be rest assured of the best holidays of your life.
P.s. Want a bright future? Let's begin by making it green. So if we are ever not travelling we are planting seeds for a greener future somewhere.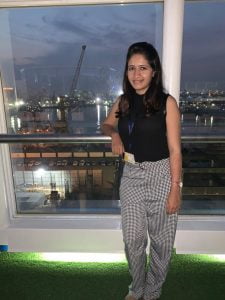 Anisha Mehta
Anisha Mehta is handling both Sales & Operations at The Tern Travellers. She comes from a travel background with almost 5 years of experience at Thomas Cook India managing domestic & International destinations. Her background in the MNC handling different key role areas inform her mindful but competitive approach. Anisha is fuelled by her passion for understanding the nuances of Tourism. She considers herself a 'forever student,' eager to both build on her academic foundations in Travel field and stay in tune with the latest upcoming destinations and their travel requirements through continued coursework.
Her hunger for knowledge and determination to turn information into action has contributed our company and our teams. She has vastly improved the productivity of her team by implementing strategic project management methods and ensuring a work-life balance for her department. She is also a Yoga Teacher and loves meditation. She is currently taking some batches as a freelance Teacher.